How I Managed To Reduce My Cellulite - Without Lipo!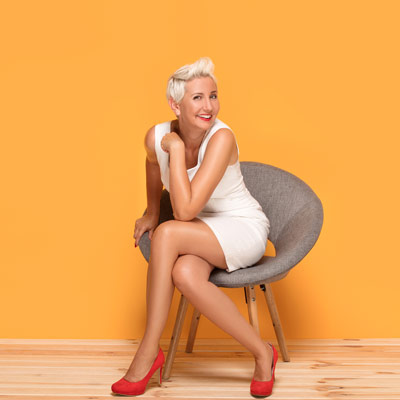 I had cellulite on the back of my thighs.
That's not unusual - dermatologists estimate that up to 98% of women have cellulite to some degree.
Although this seems a little unfair when compared to men, only 10% of men suffer with cellulite.
Physician Lionel Bissoon, who wrote The Cellulite Cure, has explained why: "When estrogen starts to decrease, you lose receptors in blood vessels and thighs, so you have decreased circulation. With decreased circulation you get less oxygen and nutrition to that area, and with that we see a decrease in collagen production."
And yes I KNOW....

- Cellulite is normal almost everyone has it
- That the photo-shopped models we see in magazines isn't 'real life'

But I still wanted to say goodbye to my cellulite. I didn't like the stretch marks and fatty lumps that come with it - made worse when an ex pointed out 'Ahh look at that dimple in your thigh'!
I followed the usual tips...
- I tried to eat better (avoiding crash diets which can make cellulite worse)
- As part of a healthier me I also QUIT smoking
- I also started a little exercise (mainly focused on squats and lunges)
This all helped a little.
But I still felt I could do more.
Spending a few thousand on lipo certainly wasn't an option!
And body brushing didn't seem to do much of anything for me...
Then a friend told me to try this multi-collagen from the So Body Company.
I wasn't sure that drinking a powder would help but I'd tried all the other obvious solutions...
But I found this medical study that looked promising...
...this study concluded that ingesting collagen over 6 months led to a clear improvement of the skin appearance in women suffering from moderate cellulite.
That gave me reason to try it out.
The So Body Company collagen is an easy to mix powder that you add to a drink (hot or cold). It's easy to take and is completely tasteless.
Which makes it easy for me to incorporate into my daily routine.
Now I drink it regularly.
I usually add it to my morning tea but when I have more time I add it to a smoothie.
I've been drinking it now for 4 months and I really am seeing the difference.
The So Body Co Collagen is a MULTI-COLLAGEN....
This means it combines the power of the different 'types' of collagen to bring a wider range of benefits.
Each daily serving gives me 10,000 mg of pure protein made of types I, II, III, V and X collagen.
Not only supporting cellulite but also shown to:
- Promote youthful skin
- Reduce the appearance of wrinkles
- Increase hair and nail strength
When you check out So Body Co almost every single review, hundreds of them, look like this:

Here's one that caught my eye:

"I was absolutely delighted with the results. I noticed a distinct difference within about four weeks and my skin (and hair!) is the best it's ever been. So many people have complimented me on my skin over the past few months. A friend I'd not seen in a few months said to me a couple of weeks ago 'Your whole face looks different; it's so smooth and glowing.' People constantly look shocked when I tell them my age and all say they had assumed I was mid thirties, but no!"
You Have 90 Days to Decide Whether You Agree with Me or Not
When I first ordered So Body Co's collagen I was unsure if it would work for me but they offer a 90 day money back even "if you return an empty pack" guarantee.
I ordered the 120 day bundle for £108 but used the coupon code WELCOME to get 10% off (this was the cheapest option)...
...but if you just want to try it out you can order a 30 day pack for only £29.99.
Buy our best value pack today and get our premium multi-collagen for just 82p per day.
---
{{ product.metafields.loox.reviews }}