IMPORTANT BREAKTHROUGH IN THE FIGHT AGAINST AGING
NEW FORMULA PROVEN TO REDUCE WRINKLES
"My skin routine used to take 30 minutes every morning and night - now I just mix a quick smoothie before bed and I'm done. I've never looked better."
Scientists say drinking this low-calorie, fat-free and 100% natural collagen 'super-mix' significantly increases skin hydration, slows the signs of aging and reduces your wrinkles.
After a long day, you just want to wrap-up warm in bed. But if you're like me, before you hit the sack you force yourself through a complicated routine of expensive moisturisers and cleansers. It's annoying. Even when you discover a new retinol spray, or a certain moisturiser that isn't as greasy usual, the struggle to find something that truly works is never ending.
Why do we put ourselves through it? The answer is simple: you want to keep your skin looking healthy and slow the signs of ageing. And, if possible, you want to do it without injections or cosmetic surgery.
A new breakthrough could be the answer. You see scientists have discovered a way you can significantly increase skin hydration, slow the signs of aging and reduce wrinkles without an anti-aging cream in sight. And you can do it without injecting anything into your skin or going under the knife.
Thanks to a special powdered formula developed by a new British company - you can now drink your way to better skin. In fact, you can enjoy this healthy skin boost with a tasty smoothie, a glass of orange juice or even just a good old cup of tea.
Proven To Improve Your Skin After Just 28 Days
Feedback so far has been phenomenal. Rosane, who's in her 50s, reported "improvements in her skin" after just two weeks.
She's not alone. Ella noticed more of a "glow" in her face after just one week. It's worth pointing out experts suggest you should expect a more significant change after four to eight weeks. But with such good results so early, the question is: how exactly does it work?
As we age, you'll know our skin begins to tire. It becomes drier, loses its elasticity and begins to wrinkle. This is because our body slows down its production of the protein called collagen. It's why, when fighting the signs of aging, collagen really is the secret ingredient.
You see, by "topping up" your collagen levels, your skin stays hydrated for longer, is less prone to cracking and generally looks more luminous. Until now, topping up your collagen levels usually involves injecting it directly into the skin. This can be effective to an extent but there are drawbacks. And let's face it: do you really like the thought of injecting anything into your body, however helpful it might be? Probably not. That's what makes this new breakthrough so exciting.
And It's Not Just Your Skin That Benefits

A British company called So Body Co. has developed a powered collagen mix you can dissolve into almost any drink. And crucially, it has virtually no taste in itself, which means you won't even notice you're drinking it. But you will definitely notice the effects on your skin - especially when people compliment you on how much younger you're looking.
In fact, it's not just your skin that will enjoy the benefits. The supplement's special blend of five different collagen types (each with different regenerative qualities) also helps improve your hair and nails. It even helps reduce joint pain and arthritis, which you normally start to experience as your body stops producing as much collagen. Good skin and less pain? There's no wonder it's been described as "a woman's best friend."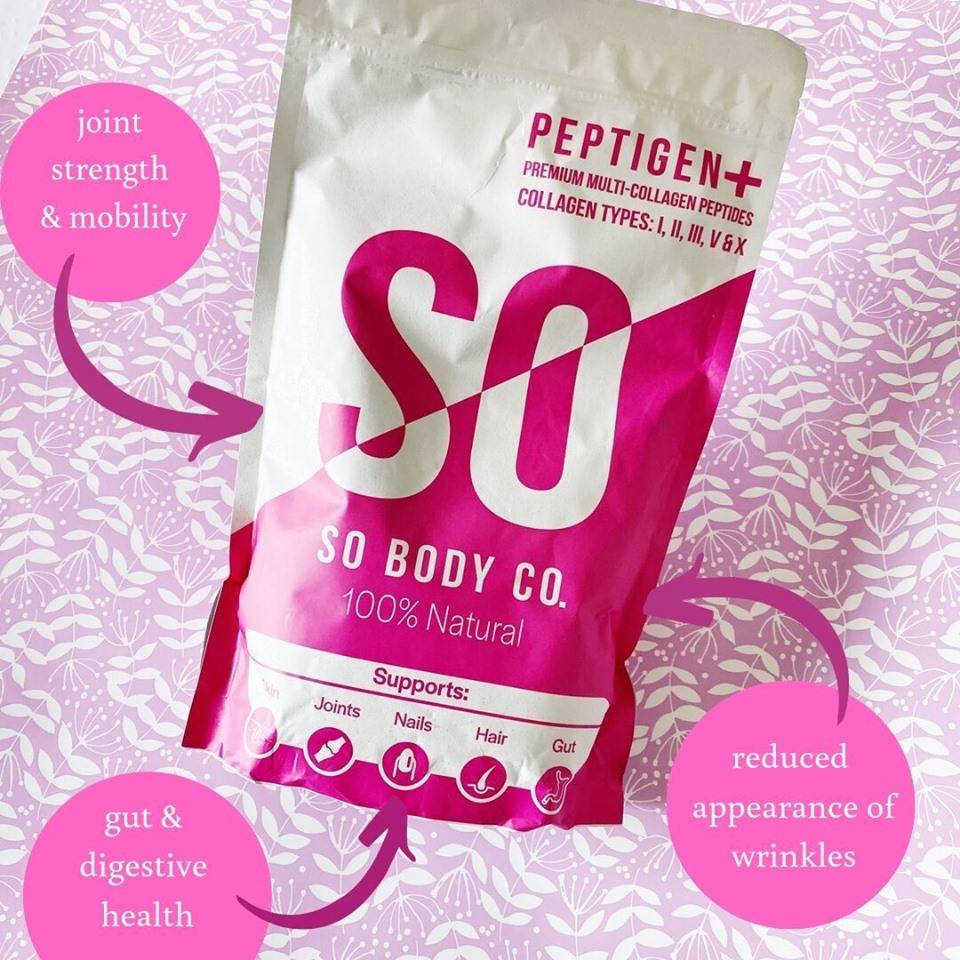 Initially, Jo was sceptical about using it, but after giving it a go she got in touch with So Body Co. to say: "I bought this as I'm going through the menopause and my skin was looking worse for wear." She goes on to say: "In the short time of using it my skin looks brighter and hair and nails even look better and it's totally tasteless in my morning coffee. It's my new best friend"
If you're fed up of buying countless anti-ageing products. If you're tired of the same skin routine evening morning and night. And if you're looking for a simple but effective way to improve your skin, slow down the signs of aging and strengthen your hair and nails...this is for you.
See Results For Yourself After Just 28 Days