Age Defying Collagen Supplements
Thank you for considering partnering with us to offer your customers the amazing effects of our ever growing range of health and beauty supplements.
Together we can help them look, feel and live better!
At So Body Co. we understand that your customers lead busy lives and don't always have the time to get everything they need easily into their daily diet.
So we set out with a mission; To create a range of products that help people to look, feel and live better and to make this as easy as drinking a glass of water!
Each of our products has been specifically developed to help people support a specific part of their wellness journey and to compliment each other creating the perfect health and well-being package for your customers.
Join a group of like minded people all trying to help their customers look, feel and live their best lives!
Our partners enjoy;
• So Body Company products at competitive wholesale rates
• Very low £150 minimum order, making this suitable for any size business
• 1-2-1 support
• Information Booklets
• Dedicated Account Manager
• Regular Newsletters
• Access to the latest products
• Assist developing new and innovative products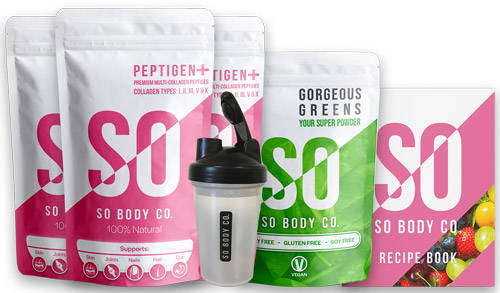 Our Peptigen+ Collagen supplement is:
• Fully manufactured and packaged in the UK

• 5 Types of Collagen in one supplement

• Completely Tasteless

• Hydrolysed for easy digestion and better absorption

• 100% Natural.

• Fast Shipping from our UK Distribution Centre

• Independently lab tested to guarantee against impurities and heavy metals.

• GMO and dairy free.
Our Gorgeous Greens supplement is:
100% Vegan •

Packed Full of vitamins, minerals and antioxidants •

No added flavours, colours or nasty artificial sweeteners. •

Supports your immune system and reduces tiredness and fatigue •

12 different super ingredients, including Hyaluronic Acid •

Soy, Gluten and Dairy Free •

Fast Shipping from our UK Distribution Centre •

Fully manufactured and packaged in the UK •
What our amazing customers have to say about our products.