The type II and type X collagen proteins in this pack could help ease your joint and arthritic pain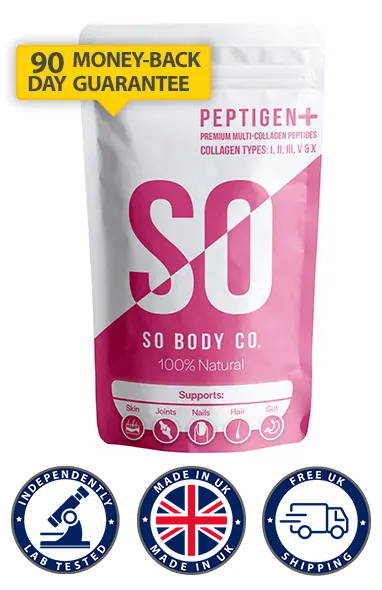 Peptigen+ Multi-Collagen can promote:


-> Joint Strength & Mobility
-> Reduced Joint Pain
-> Smooth Youthful Skin
-> Reduced Appearance of Wrinkles
-> Longer, Stronger Hair and Nails



Feel great with Peptigen+ for just 89p per day

All transactions secured and encrypted 🔒
"I recently developed arthritis and before collagen, had hands like the talons of an eagle. I can now make my jewellery again and even open jars unaided (a small but satisfying win!)."

- Sara R.

Collagen Proteins vs. Joint Pain


A number of clinical studies have shown that collagen supplements may support pain relief for arthritis sufferers and help improve joint health.


This report summarises: "they showed collagen hydrolysate to provide improvement in some measures of pain and function in some men and women with OA or other arthritic conditions"
Another study indicated that treatment with collagen for 90 days significantly improved WOMAC scores at all treatment time points measured (WOMAC is widely used by health professionals to evaluate the condition of patients with osteoarthritis of the knee and hip, including pain, stiffness, and physical functioning of the joints.)

And here are just a few of our customer's experiences:


Arthritis runs in the family and when I spoke to my doctor, she thought it might be the beginning of something. I asked if there was something I could be doing to help myself rather than medicating and she suggested a collagen supplement. I researched for a good while and thought this product most closely fit what I was looking for. I have not been disappointed. Within a month I began noticing a difference in the reduction of aches and pains I felt in my joints. On top of this my hair and nails are much stronger. A great product that I would thoroughly recommend!

I bought this after doing quite a lot of research in different brands and chose this one as it contains type 2 collagen which is needed to help joints. I have osteoarthritis and thought I would try this to see if it would help, however I was very sceptical. Within 2 weeks the pain in my hip was reducing and 6 weeks on I can now easily walk 5 miles whereas I was struggling with any more than 2 miles.
Add this powerful, natural, multi-collagen powder to a drink to start looking & feeling years younger!
As we age collagen production drastically declines. Stop the loss now. Reverse your signs of aging with the UK's most popular multi-collagen Peptigen+ to promote youthful skin, longer hair and nails, reduce joint pain.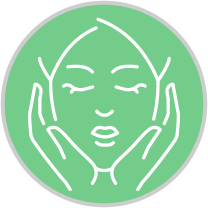 Smooth out wrinkles & cellulite. Improve skin hydration and elasticity. Relax and enjoy the compliments about to come your way,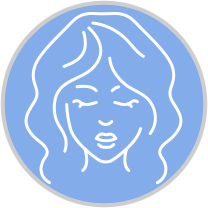 Reveal stronger, longer, healthier looking hair and nails. Get the Peptigen+ 'glow up' and love how you look in the mirror.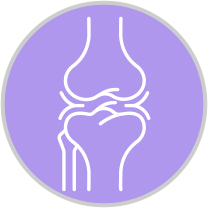 Helps to alleviate joint pain and decrease sports recovery times. So you can be up and active for longer while feeling your best.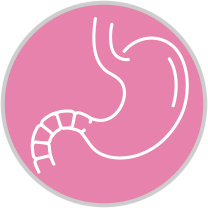 Helps reduce inflammation and improve gut health & immunity. Say goodbye to bloat and discomfort and feel great.
Feel great with Peptigen+ for just 89p per day
90 Day Money-Back Guarantee
Fight the signs of ageing with 5 types of collagen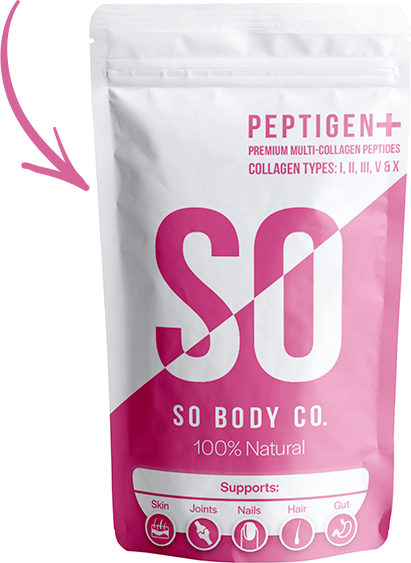 TYPE I COLLAGEN
Promotes hair thickness, reduced hair loss, and helps improve skin smoothness & elasticity.
TYPE II COLLAGEN
Helps reduce popping knees and supports the back, jaw, and joints, to keep your body strong and flexible.
TYPE III COLLAGEN
Supports circulation and elasticity in tendons and ligaments and repair to muscles and your body.
TYPE V COLLAGEN
Helps restore youth from the inside out by supporting healthy tissue in your hair, skin, nails, and organs.
TYPE X COLLAGEN
Helps reduce inflammation, wear and tear on joints, and increased mobility to keep your body moving and feeling youthful!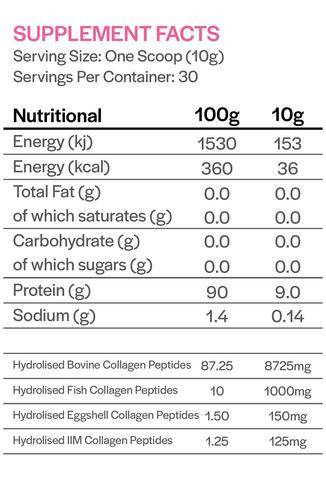 Just Three Natural Ingredients
Peptigen+ includes just three natural ingredients: marine, bovine and egg collagen

There are no other additives or ingredients.
It's GMO, gluten and dairy free.
Peptigen+ is a pure protein.
Zero sugar, zero carbs and no fat.
And just 36 calories per serving.
Free Recipe Book With Your First Order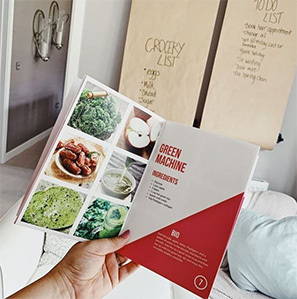 20 delicious and (mostly!) healthy collagen smoothie recipes for you to enjoy.

Worth £3.99 FREE with first order when you order now.
How Peptigen+ Multi-Collagen Works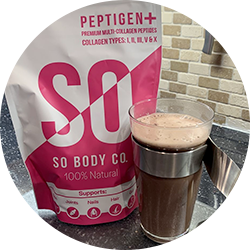 Drink Daily

Simply add 1 scoop (10g) of Peptigen+ Multi-Collagen powder into any hot or cold drink.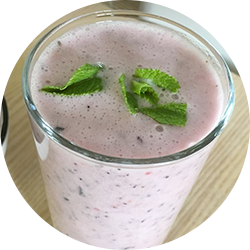 Enjoy Anti-Ageing Benefits
Our hydrolised multi-collagen promotes youthful skin, longer hair & nails and reduces joint pain.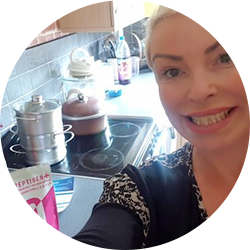 Look & Feel Younger
Make Peptigen+ part of your daily routine and notice the difference not just in how you look but how you feel.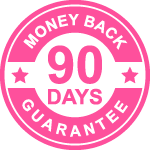 90 DAY MONEY-BACK GUARANTEE
We'll refund your money even if you send us back an empty pack!
Order now with complete confidence. If for any reason you don't think Peptigen+ is for you then return it for a full refund. And yes, even if the packet's empty!

Look and feel younger with our premium multi-collagen for just 99p per day

So Body Co was the first British company to produce a multi-collagen. Today we remain a small but dedicated team based in Maidstone, Kent.
QUESTIONS? Our covid safe working practices mean we are often working out of the office which means we can't always get to the phone. You can try calling us on 01622 946 370 but the best way is to reach us with any questions here.
---
{{ product.metafields.loox.reviews }}